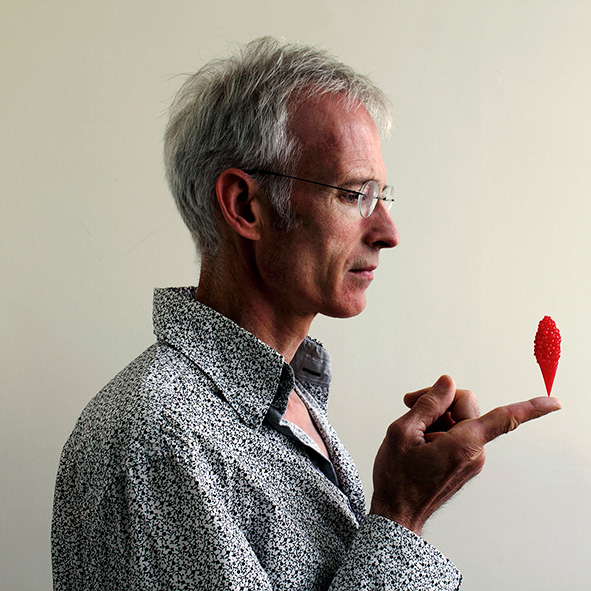 Jaco van der Vaart - Lives and works in Delft,  the Netherlands
1995 - 98   Willem de Kooning Academy   Rotterdam
1993 - 95   Secondary Teacher Training Handicrafts   Rotterdam
Why do I get the impression to be in the maze of life in Jaco van der Vaart's art studio space? I wander around abstract, erratic sculptures, man-high, hand-small, sometimes in bright colors, others in earthy tones with natural-looking bulges, outgrowths and spin-offs. I try to find my way athrough the drawings, populated by investigative and exploring people, in which time stands still.
The art studio is a quiet place, the atmosphere around the statues and images subdued, but the diversity of materials reveals a lot of research, knowledge and activities: polyester, bronze, lead, wood, aluminum, ceramics, surgical steel, gypsum, gold leaf, iron, paraffin, rubber. Each object a different material and the drawings are detailed, delicate and made with a razor-sharp pencil tip. You experience the sketched and the modeled as a kind of distorted fairy tale, at the same time confronting and alienating. There is a strong tactile dimension: an artistic variation on the discoveries of the anatomy of sealed body's' insides. Secrets are revealed by the countless pencil lines, sometimes soft or dark shaded, rationalizing, humorous and, there it is again, alienating.
The oeuvre, collected in the art studio, suddenly appears to me as an inventory of everything surrounding us. Is it not better to name it a collection instead of a maze? But a collection of what? The common thread that I see is multitude: elements from perishable nature, the inside and the outside, the real and the imagined. Is that the essence in this alchemist environment, a place demanding the invisible in the visible world? This could explain why I am experiencing the art studio visit as a wandering trip. Jaco van der Vaart depicts with analytical and poetic exactness of things and worlds that allow themselves to be absorbed without difficulty into reality. This creates a cosmos with new distances and depths that lead you to start looking for a key, an entrance or the overview that the artist seems to have.
Text by Landa van Vliet

Translated Jeanette Kreuger